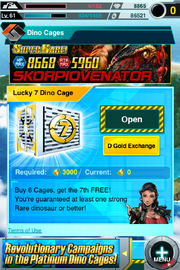 "Now that the Platinum Dino Cages are a permanent feature, we are offering a special deal for hunters looking to power up their Decks! With this special deal, you can open 7 Platinum Dino Cages for the price of 6! This is your chance to get your hands on those Super Rare dinosaurs!"
In-game description of the Lucky 7 Dino Cage.
These cages will provide a guaranteed powerful Rare or a Super Rare Dinosaur. Each Lucky 7 Dino Cage cost 3000 D Gold. They work in the exact same way as the platinum dino cages.
Trivia
This offer will be available from 15th April - 22nd April. An announcement was made that due to positive feedbacks, the Lucky 7 Dino Cage became permanent. During this period, there was an Increased Super Rare chance.
From 26th April - 30th April, opening a Lucky 7 Dino Cage will reward you with an Upgrade Serum DD-50.
From 2nd May - 6th May, opening a Lucky 7 Dino Cage will reward you with 5 Fuel Tanks.
You cannot open a Lucky 7 Dino Cage with separate Platinum Dino Cage Tickets.
From 13-20th of June, there was a further increased rate of Super Rare Dinosaurs along with a DD-50. The results of a successful open are on the right.
On the 7th May, the Platinum and Lucky 7 Cage will be no longer on sale and will only be available through tickets.
Ad blocker interference detected!
Wikia is a free-to-use site that makes money from advertising. We have a modified experience for viewers using ad blockers

Wikia is not accessible if you've made further modifications. Remove the custom ad blocker rule(s) and the page will load as expected.