"This one is special. You'll need D Gold, and the odds of getting something powerful are higher" 

The Gold Dino Cage contains a plethora of Dinosaurs ranging from the alternately-coloured Normals up to the prized Super Rares. The Gold Dino Cage is the most accessible out of all the Ticket-based Cages. Tickets can be obtained through login bonuses, special tasks, event prizes, or can be purchased from the store for 300 D Gold.
Contains
Rare Normal dinos
Rare dinos
Super Rare dinos
Rare Normals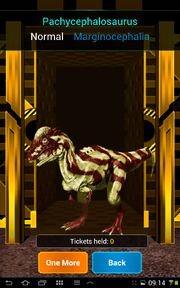 Rare Normal dinos are occasionally found in the gold dino cage.  They are slightly stronger versions of the Normal Dinos and have a different coloring to them. Though stronger than normals they are still much weaker than rares and are often kept as trophies instead of fighters. Confirmed rare normals include:
Ad blocker interference detected!
Wikia is a free-to-use site that makes money from advertising. We have a modified experience for viewers using ad blockers

Wikia is not accessible if you've made further modifications. Remove the custom ad blocker rule(s) and the page will load as expected.