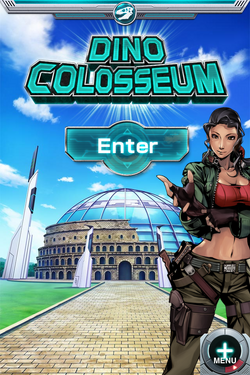 The Dino Colossuem Prime is an event will a whole new Colossuem system where you battle it out with other hunters for great rewards!
Dino Eggs will have a 150% boost for both stats. You start the event with Grade F. From there, you must battle other opponents to increase your rank. When you reach a certain number of points, you will be given the option to undertake a Grade Battle, which will level you up a rank. From here, continue to fight your way up to the top. If your grade points hit 0, you will be down to the previous level with your points restored to the previous level.
Final Ranking
Rewards
1-10

Event Exclusive Super Rare Iguanodon

Event Exclusive Super Rare Antiquity Egg

11-20

Event Exclusive Super Rare Antiquity Egg

21-30
31-50
51-100
101-200
201-500
501-1000
1001-2000
2001-All
Grade Up rewards
Note that these rewards can only be obtained once.
Grade Level
Rewards
Battle Points needed to move to the next rank
S
Event Exclusive Super Rare Mystic Egg
13000BP from Rank A
A

2 Energy Drinks

2 Platinum Tickets

6900BP from Rank B
B

2 Energy Drinks

1 Upgrade Serum DD-50

3300BP from Rank C
C

Event Exclusive Super Rare Dazzling Egg

2000BP from Rank D
D

2 Energy Drink

1 Platinum Ticket

1000BP from Rank E
E

2 Energy Drinks

1 Gold Ticket

300BP from Rank F
Ad blocker interference detected!
Wikia is a free-to-use site that makes money from advertising. We have a modified experience for viewers using ad blockers

Wikia is not accessible if you've made further modifications. Remove the custom ad blocker rule(s) and the page will load as expected.