"You can spend some Friendship Points to get the dinosaurs inside...what do you think?"
The Normal Dino Cage is the lowest tier of all the Dino Cages and is also the easiest to open. The Normal Dino Cage can be opened by using 100 Friendship Points. Friendship Points can be obtained by greeting and sending a message to other players, daily bonuses, event rewards, and task rewards.
Because it is the most frequently used, the Dinosaurs it gives you are naturally not good, they often give weak Normal Dinosaurs that are often used as food. However if you manage to obtain a lot of Friendship Points through greeting, you might get lucky and obtain a Rare (as you can see in the picture) from this particular Dino Cage. 
Contains:
All Normal Dinosaurs
Some Rare Dinosaurs
Super Rare Dinosaurs are findable in this type of Dinosaur Cage but it's extremely unlikely and you can only obtain the low dc Sr Dinos. Below are pictures of a SR Carnotaurus and SR Deinonychus found in a normal cage.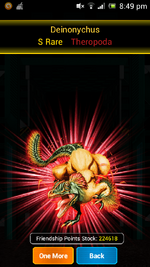 How To Make Use Of Normal Dino Cage (Tip)
Since the Normal Dino Cage doesn't usually give good Dinosaurs, most people stock up on Friendship Points, open a lot of Dino Cages, and use what they get as food. Upgrading is one of the most vital parts of being a good player, knowing how to upgrade as you level up is an essential skill to learn. Therefore making the Normal Dino Cage crucial to good players.
Now that opening 10 Normal Dino Cages are available as of 14/05/14, it is much easier and faster to open them, as it is now 10x faster than opening 1 Normal Dino Cage everytime.
With the introduction of the 10 Normal Dino Cages, Bonus Serums, which are the DD-10s, 50s, 100s, and EXes, are now available when opening them. This would certainly benefit all players, as long as they have the Coins and FSPs to open and upgrade their Dinosaurs.
Ad blocker interference detected!
Wikia is a free-to-use site that makes money from advertising. We have a modified experience for viewers using ad blockers

Wikia is not accessible if you've made further modifications. Remove the custom ad blocker rule(s) and the page will load as expected.