This elite Arid Hazard Cage is the first cage ever with guaranteed dinosaurs that are strong in Desert!
(You can get dinosaurs whose Terrain Properties of desert is ◎ or ★ in this Cage)
For the limited time(s) below, the Arid Hazard Cage will be available from:
2/3/14 00:00 [ET] - 3/3/14 23:59 [ET]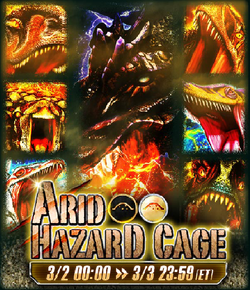 Ad blocker interference detected!
Wikia is a free-to-use site that makes money from advertising. We have a modified experience for viewers using ad blockers

Wikia is not accessible if you've made further modifications. Remove the custom ad blocker rule(s) and the page will load as expected.